April 14th, 2018, will mark the launch of the 8-week interdisciplinary, community-oriented project "Women Hold up Half the Sky", led by Ekua Bayunu, this year's Artist in Residence for Alexandra Arts' "Pankhurst in the Park". An introductory artist-led talk will be held with Bayunauwho will be speaking at the Alexandra Park Pavilion at 2pm. Followed by a women's artists space session, organised in association with the Global Arts Mcr, a group co-founded by Bayunu to 'encourage people to participate in the visual arts and learn more about diversity.'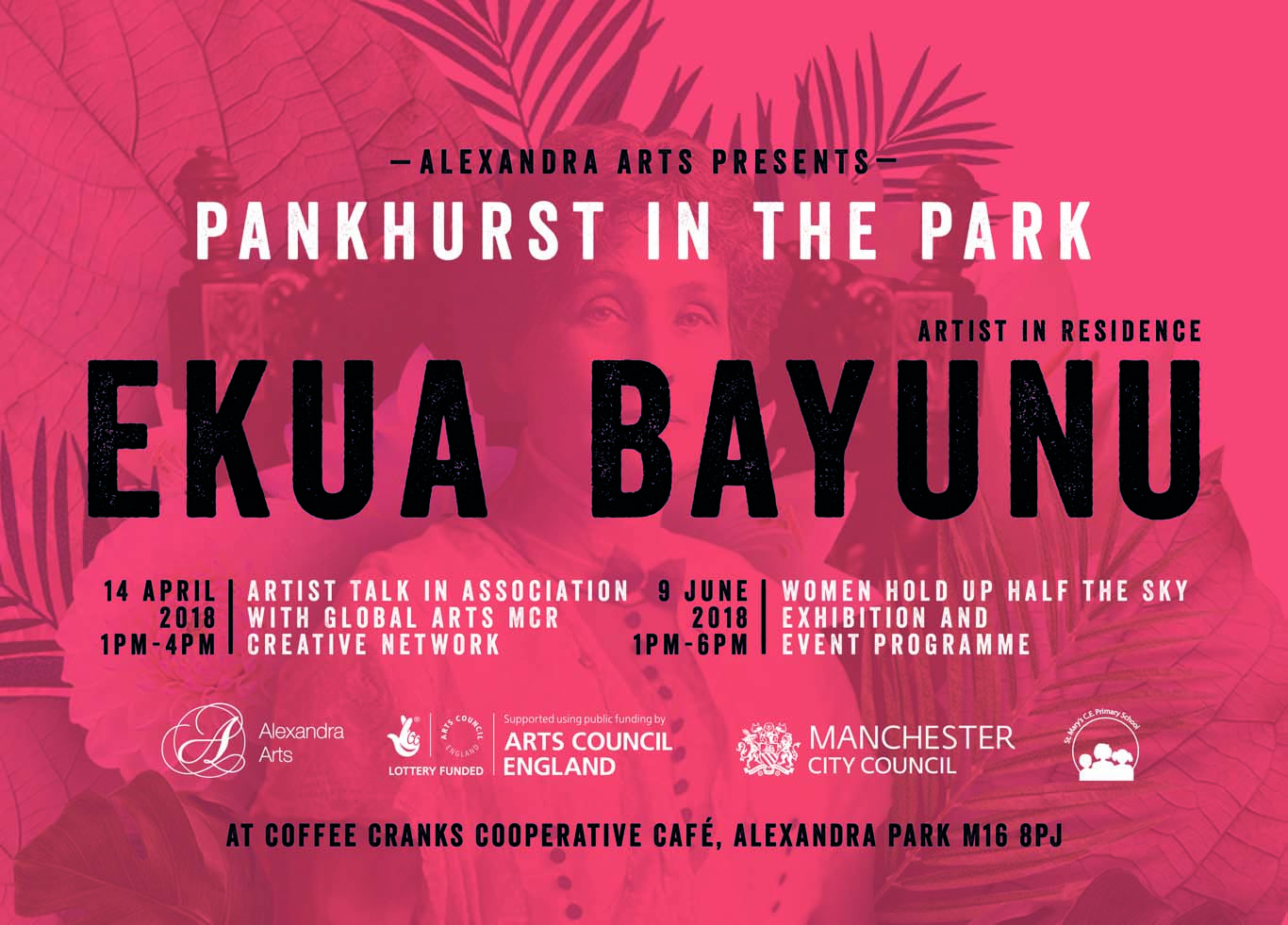 The 8-week project will incorporate elements of sculpture and film, and will include the participation of a diverse range of members of the local community; who can get involved with workshops held at Alexandra Park's Chorlton Lodge and Depot.
The project draws from a central theme of the Pankhurst in the Park project, the legacy of the suffrage movement and the special significance of Alexandra Park in this history. Emmeline Pankhurst lived just on the borders of the park and 2018 marks not only the centenary of the right of women (over 30) to vote. It will also be a hundred and ten years since thousands of suffragettes marched in Alexandra Park.
Bayunu's work will expand beyond local concerns to build on the themes of global women's leadership and consider culture, the arts and creativity as tools for active citizenship of central significance.
Already with significant experience as an artist, Bayunu moved to Manchester in 1993 and has since then produced several high-profile works around the city ("Sensory Garden" in Hulme Park, "Anansi Mosaics" at Royce Primary School), worked in outreach support at Manchester's Contact Theatre between 2001 and 2006, worked from her studio at Artwork Atelier in Salford, and organised exhibitions celebrating Black History Month in collaboration with Global Arts Manchester in 2017. Ekua started 2018 with her solo exhibition titled "Re:Birth" at Manchester's Chuck Gallery. She has lived and worked as an artist and tutor with a keen sense of community participation for several decades.
Follow Ekua @ekuabay & @globalartsmcr #WomenHoldUpHalfTheSky